Goal Software to Achieve More by Doing Less
---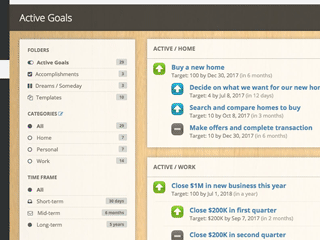 Set SMART goals and stay on track
Finally a comprehensive solution to keep all your goals together and motivate you to make progress everyday. GoalsOnTrack can help you set SMART goals, break down long-term goals into milestones or sub-goals, and organize them with your categories.
Flexible and accurate progress tracking supports both personal and business goals.
---
Build action plans and take focused action
Build detailed and organized action plans for reaching your goals. For every goal, you will be able to see all its subgoals or milestones and what action to take for each of them, all on a single page.
With recurring tasks, you can create a very flexible and precise task schedule that fits your goal plan. To make a change, simply drag and drop tasks on your calendar to revise your schedule.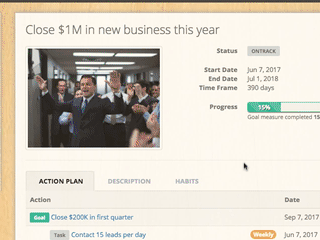 ---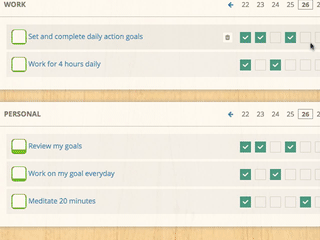 Build habits to make progress on autopilot
To make consistent progress, nothing beats good habits that support your goal. GoalsOnTrack can help you build good habits and link them to support your goals.
You decide how long and how often to keep at your habits. Check them off on the habit tracker calendars. The software automatically tracks your habit strength and daily execution.
---
Visualize your success to motivate yourself
Practicing visualization regularly is very helpful for reaching your goals. GoalsOnTrack's vision board tool allows you to upload your pictures and music, to create an animated slide show for your visualization practice.
You can control the transition effects, speed, and interval to make the whole visualization process work exactly as you envision it.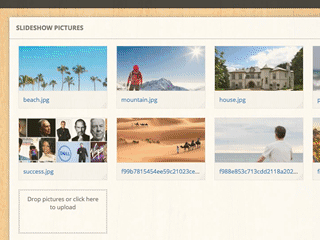 ---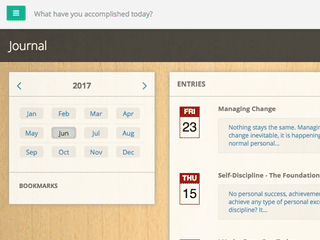 Keep a journal for your goals
Most high achievers have the habit of keeping a journal for their goals. GoalsOnTrack's built-in journal tool can organize your journal by different goals and calendar months.
You can place bookmarks for quick access to important entries. You can also record your small wins or daily accomplishments without even opening your goal journal.
---
Goal templates with detailed action plans
If you don't know where to start with your goal, you can check out the built-in goal templates in GoalsOnTrack. Each template provides you with a detailed action plan. Some even with habits created for you.
All you need to do is simply create your goal from these templates and make changes as needed. This will save you time and also give you ideas on what to do to reach your own goals.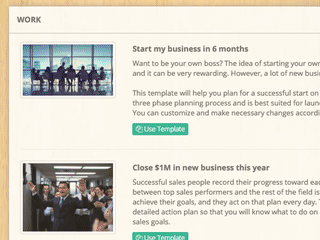 ---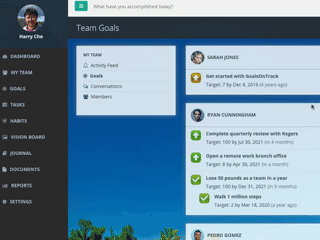 Keep your team goals on track
In the Team version, everyone can share their goals with the team, and see what everyone else is working on and how much progress is being made. Members can share their goals or keep them private. The team can only see publicly shared goals.
For more details of Team version features, click here.
Customizable Look
Custom how the software looks. Change the default background by choosing from the built-in gallery or uploading your pictures.
Go Mobile
Responsive design for all screen sizes. Work on your goals from anywhere. Supports both iOS and Android devices.
Data Sync
Sync with your favorite calendars via iCalendar feeds. Supports Google Calendar, Yahoo Calendar, Outlook Calendar, iCal etc.
Safe & Secure
Your data safety and personal privacy are our highest priorities. One-click backup feature to download your entire account data.
Sign up for GoalsOnTrack today...
Your membership includes
Unlimited access to the web and mobile apps
Free upgrade on new features and future add-ons
Free technical support on software usage
Free access to all downloadable resources
Bonus e-books on success and motivation
Faq
Frequently Asked Questions
---
Please check our full FAQ page or send us a message if you couldn't find an answer to your question in the following list.
What do I get after I sign up?
After you sign up, you will receive a welcome email with detailed instructions on how to access and start your membership. Your membership includes:
Access to GoalsOnTrack web and mobile applications
Goal templates and future add-ons
Free upgrades and new features
Free technical support and trouble shooting
Bonus e-books on success and motivation
Are my credit card or account data secure?
All the data you enter into the program is completely secure and confidential. We'll never access, disclose or share your personal information with anyone without your permission. We do not store your credit card information on our server so your purchase data is completely secure and safe when you sign up.
I just signed up but still no login?
Please wait about 5 to 10 minutes for the welcome email to arrive in your in-box. Also double check your junk/spam folder just in case. If you use Gmail, check other tabs in your in-box. If you signed up via PayPal, please make sure to check your PayPal email address where the login has been delivered.
What if it doesn't work for me?
We offer a full 30-day money-back guarantee. If you sign up today and don't agree that it's worth every penny, we'll promptly refund your money. No questions asked. No hassle. Just send us a request in the contact us form at the bottom of every page, or cancel it from within your account. We'll promptly refund your money if it's within 30-day period of your purchase.
What if I need help learning the system?
Our software has been designed to be very easy to use and quick to learn. To learn about the basic steps you need to take to get started. please check the support articles and tutorials. If you have any questions, please feel free to contact us.
Can I try your software for free?
Absolutely! Feel free to sign up for yourself to give it a try. We offer 30-day money back guarantee. The reason we require payment upon signing up is to make sure all registered users are serious and fully committed to testing out the software. We stand behind our products and services, and guarantee customer satisfaction or we will refund your money.
Download Free eBooks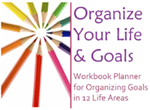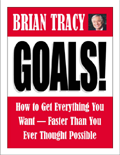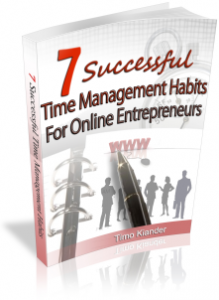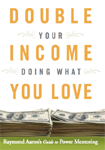 Subscribe to our newsletter below to get access to free ebooks and all our member resources. We respect your email privacy.